---
HAVE YOU INVITED ANYONE – SERMON SERIES VIDEO AUDIO NOTES
Most of us began coming to church and eventually came to the Lord because someone simply invited us to church. Usually, immediately after we come to the Lord and become an attender at church, we invite everyone we know. However, after a short time we forget to invite. Why is this? Have you invited anyone lately?
Have You Invited Anyone – sermon series video audio notes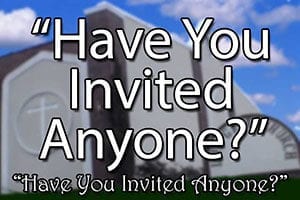 We Have Found – sermon series video audio notes
The second easy and effective step to bring people to Jesus is to find people to invite to what you found. Andrew said, WE HAVE FOUND THE MESSIAH! Maybe it is your small group where you FOUND excitement and a real experience with Jesus. Maybe it is the praise and worship where you FOUND the reality, presence, and excitement of the Lord. INVITE your family and friends. Maybe you FOUND great preaching and teaching and that makes Jesus alive, real, and exciting. INVITE your family and friends to hear what you FOUND.
Volunteering, Is It Worth It? – sermon video audio notes
What you give, what you bring, what you give volunteering will effect heaven. No one gets more Holy Spirit than another. We are all given the gift of the Holy Spirit to do things in the kingdom. The world was changed because of volunteers in the Kingdom of God – Stephen, Philip, Paul, Barnabas, Dorcas, Mark, Luke. The kingdom advanced from the work of the volunteers. Any ministry is only as effective as the people who volunteer to advance it in the kingdom.
Climb In The Chariot! – sermon notes
Notice that Philip started out with instructions from an angel. I promise you that if we will start out, the Spirit will help you every time. THEN the Spirit became involved – Go to that chariot and stay near it. Sometimes, we just need to simply stay near people and be accessible to them. If we will, they will invite you to CLIMB INTO THE CHARIOT.
Also see: