---
DAVID THE KING SERMON SERIES BY DELBERT YOUNG
David the King sermon series – Though I did this series years ago, it remains one of my favorites. Here's why. When David drew close to God, giants fell. When he didn't, David fell. What a lesson. It's a serious look at the life of King David, the man after God's own heart.
David The King Sermon Series
by Delbert Young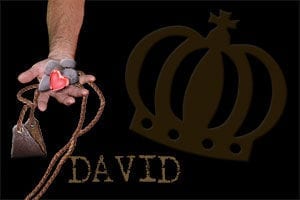 David The King Sermon Series
Of all the Bible characters we are allowed to study… of all the characters from which we glean our lessons of life, none are more instructive than DAVID. Did you realize next to Jesus Christ, the Lord dedicates more Bible to David than any other person? (Something like 66 chapters in the O.T. and fifty-nine references in the N.T.) What's the Lord trying to tell us?
The story of David begins with David as a young boy. It never has ended. Though David's death is recorded, his story still goes on. Again, what do you think the Lord is attempting to tell us through David? David's story moves from great faith to great doubt to great confusion, to great confidence, to great fear, to great sin, to… His life is like a ride at Disney World: up, down, curve, sharp snatching turn, and seldom smooth. Yet, David is the only person in the entire Bible to whom God refers as a man after God's own heart. What does this mean? One thing it means is David was after the heart of God. David wanted to capture God's heart. A man's heart and a woman's heart should be a heart after the Father's heart.
Also see: