---
Distraction – Life is full of distractions. We all have a favorite distraction. Something or someone will foul our lives when life is on the line. Probably the thing  we are distracted from the most is the Lord and the kingdom. With life yelling and fouling us, how are we supposed to focus on church and God's kingdom? Nonetheless, to play in the championship of life, somehow you MUST remain focused.
DISTRACTION
by Pastor Delbert Young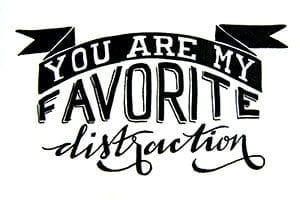 Audio
Distraction 
I was watching the Utah Jazz in a basketball game that meant the winner going to the championship finals and playing the Chicago Bulls. I watched Karl Malone, a power forward for the Jazz, be intentionally fouled. He walked to the foul line to shoot the free throw. The game was on the line as hundreds of people in the bleachers behind the goal were waving, yelling, and shaking long white animal balloons as a DISTRACTION to Karl.
Life can be distracting. No, sorry. Life is full of distractions. Something or someone will foul your life (not a game) when it is on the line. You will be fouled and sometimes it will seem intentional. You really need to make the shot to get to the championship, but hundreds of distractions are trying to stop you. You have a goal to make, but staying focused on the important thing – the Lord, families, finances, school, exercise programs, diets, etc. is tough.
Probably the thing that we are distracted concerning the most is the Lord and the kingdom. With life waving, yelling, and fouling us, how are we supposed to focus on church and God's kingdom?
Nonetheless, to play in the championship of life, somehow you MUST "shut out" the balloons, the fouls, and all the DISTRACTION and make the shot. Life depends on it. Life's benefits depend upon it.
1 Corinthians 7:35  And this I speak FOR YOUR OWN PROFIT; not that I may cast a snare upon you, but for that which is comely, and that ye may attend upon the Lord without DISTRACTION. [NIV – undivided devotion]
(NLT) 1 Corinthians 7:35  I am saying this FOR YOUR BENEFIT, not to place restrictions on you. I want you to do whatever will help you serve the Lord best, WITH AS FEW DISTRACTIONS AS POSSIBLE.
It is FOR YOUR OWN PROFIT and FOR YOUR BENEFIT that you need to serve the Lord with as few DISTRACTIONS as possible (NLT). I like that translation. King James' says without DISTRACTION. A life without DISTRACTIONS, or serving the Lord without DISTRACTIONS, just is not going to happen. Distractions come. Fouls come and balloons come, but we can minimize them and focus through them.
To prove my point about distractions and the kingdom, let me ask you a question. How many of us have ever been praying, with a right heart, when something distracted you? I mean you really wanted to pray, you wanted to enjoy your time with the Lord, when suddenly, from nowhere, came a DISTRACTION – the phone rang, or a crazy thought came through your mind, or something weird happened, etc. The balloons began waving. Your time of prayer was to benefit you and benefit those for whom you were praying, but a DISTRACTION unfocused you and pulled you away.
Has this ever happened to you concerning your faithfulness and attending church? Perhaps you made your mind up that you were not going to miss another Sunday. You were going to church and serve the Lord no matter what! But, something happened that changed all that – you were tired, got sick, argued with your spouse,  got fouled, etc. The balloons were waving! A DISTRACTION changed your plans and you found yourself missing church… again.
Has a similar thing ever happened concerning your giving to the kingdom? You said something like, "I promise you Lord, I am going to begin tithing NEXT week." However, as sure as the sun will come up tomorrow, the car broke down, or the refrigerator went out, or the baby became sick and you had to pay the bills. It fouled you and the balloons were waving.
I want us to see that a DISTRACTION is planned by the enemy to take us out of the kingdom. I want us to also see that DISTRACTIONS are universal! Every person in the Bible experienced the normal distractions of life and distractions intended to take them out of the kingdom. The serpent purposefully distracted Eve with forbidden fruit. Eve distracted Adam. Wine distracted Noah. Giving her husband what he wanted distracted Sarah from her purpose. Hagar and Ishmael distracted Abraham. Sodom distracted Lot.  Looking back distracted Lot's wife.  A little hunger and a pot of beans distracted Esau. Jacob's own deception distracted him. Dreams distracted Joseph. Anger distracted Moses. Rebellious children distracted Eli. Women distracted Samson. Jezebel distracted Elijah. David distracted King Saul. His own father distracted Jonathan. Bathsheba distracted David. Wives and concubines distracted Solomon. Waves and wind distracted Peter. A my-way-or-no-way attitude distracted Paul. "Many things" distracted Martha. Wealth distracted the rich young ruler. False religion distracted the Pharisees.
My point is, distractions come, and are universal to everyone. Some distractions are minor bumps, but some distractions are serious distractions, with the intentions to remove us from our garden of abundant life and destroy us.
We are all aware of the temptations that Jesus experienced.  Let's recall the situation. Jesus went into the wilderness to fast and pray. Guess who "Popped up"? The devil. This is interesting.
Matthew 4:3-9  The TEMPTER came to him and said, "If you are the Son of God, tell these stones to become bread." Jesus answered, "IT IS WRITTEN: 'Man does not live on bread alone, but on every word that comes from the mouth of God."' Then the DEVIL took him to the holy city and had him stand on the highest point of the temple. "If you are the Son of God," he said, "throw yourself down. For it is written: '"He will command his angels concerning you, and they will lift you up in their hands, so that you will not strike your foot against a stone."' Jesus answered him, "IT IS ALSO WRITTEN: 'Do not put the Lord your God to the test."' Again, the devil took him to a very high mountain and showed him all the kingdoms of the world and their splendor. "All this I will give you," he said, "if you will bow down and worship me." Jesus said to him, "Away from me, Satan! For IT IS WRITTEN: 'Worship the Lord your God, and serve him only."'
Notice the TEMPTER in verse 3 changed into, or actually was, the DEVIL in verse 5. What was the purpose of the tempter and the devil? It was to provide a DISTRACTION for Jesus from his real goal and purpose in life. The DISTRACTION would take him from the kingdom and ultimately destroy him. If the TEMPTER/DEVIL came to Jesus in an attempt to remove his focus, we would be fools to think that he will not come to us. Allow me to give you a scary thought. Have you ever wondered how many times the tempter devil has ALREADY come to you and caused you to miss your best life and perhaps even your destiny? How much further along in life could each of us be had we not allowed a DISTRACTION to work on us? Hear me please. Distractions come, fouls come, and they are POWERFUL.
I knew a very good church-going girl in high school who was/is extremely intelligent. She was a shoe-in for an academic scholarship to a good college. There was no limit to what she could have become, but she met a boy and they began dating. She really liked the boy and he began pressuring her to have sex. Eventually, she did and she became pregnant. Because of the type person she was, she dropped out of school, forgot about college, and raised her baby. She experienced a foul and the balloons were waving! DISTRACTION! How many thousands of times has that story been repeated?
I knew a man who had a beautiful wife and three great children. He had a great business, beautiful house, and opportunities to have a life beyond most of our wildest dreams. However, he became addicted to pornography and as porn does, one layer of weirdness led to a higher layer of weirdness. The next thing he knew, one of his "ladies", he met on the internet, sent his naked picture to everyone who knew him. Before long, his beautiful wife was gone. His great children were gone. His great business was gone. His money was gone. He lost everything. The enemy fouled him and the balloons were waving! DISTRACTION!
The Bible tells us the story about two sisters in Luke chapter 10. One sister's name was Martha and the other's name was Mary. Martha opened their house to the Lord and to his disciples. Jesus began teaching and Mary sat at the feet of Jesus listening intently. Yet, that was not the case with Martha.
Luke 10:40  But Martha was DISTRACTED by all the preparations that had to be made. She came to him and asked, "Lord, don't you care that my sister has left me to do the work by myself? Tell her to help me!"
Can you relate to that? Does the Lord care that things are distracting us from him? We make manypreparations for life, but often in making life's preparations, we miss what is truly important. Sometimes, doing preparations seems like the correct thing to do.  Are they really? Martha wanted the meal to be perfect! She wanted the house to be just right. That sounds like a "right" thing to do for the Lord.  But, actually all of that was only a DISTRACTION. Here is what Jesus said to Martha.
Luke 10:41-42  "Martha, Martha," the Lord answered, "you are worried and upset about MANY THINGS,BUT ONLY ONE THING IS NEEDED. Mary has chosen what is better, and it will not be taken away from her."
 (NLT) Luke 10:41-42 But the Lord said to her, "My dear Martha, you are so upset over all these details! There is REALLY ONLY ONE THING WORTH BEING CONCERNED ABOUT. MARY HAS DISCOVERED IT – and I won't take it away from her."
There are many good points to this story. Let's talk about a few of them.
(1) Many things worried and upset Martha. We need to see the picture. Right there was the Lord, who has the words of life, but Martha allowed MANY THINGS to distract her. What distracts you from the word of life? What DISTRACTION comes stopping you from reading your Bible, or coming to listen to biblical teaching? We are exactly like Martha and can probably answer, "Many things" – many fouls and many balloons. We allow the television, the children, our jobs, fatigue, telephone, company, spouse, and on and on to distract us. What is it that is really worth being concerned about? Allow me to ask you a question. Have you ever had a time when you prioritized reading and listening to teaching about the word of God? Did your life go better then than it did/does when you do not prioritize the word of God? My life does. I make much better decisions. I make the basket. The balloons are still there, but I focus far better. Jesus said, "It is written." You can make the hoop if you prioritize God's word.
 (2) ONLY ONE THING IS NEEDED. Is that true? Jesus was exaggerating! Right? It is true and, no, Jesus was not exaggerating. The Bible answers every question we have about life and life's fouls and balloons. The solutions you need to anything about life is in the Bible. ONE THING IS NEEDEDto get us through any DISTRACTION.
(3) Distractions affect others. The room was full of people. Jesus was there with the apostles. I would give anything to have been there to listen to Jesus and those men simply talk. Mary and Martha had probably invited friends. It was then Martha vocalized her resentment toward Mary's lack of assistance. It was a DISTRACTION to everyone in hearing distance. When we allow a distraction to affect us, others are always distracted. When I come to teach, I am well prepared. As you know, we have a great nursery and children's ministry, but a few weeks ago, I was teaching, and for some strange reason, several of our little ones were in the sanctuary. Some of them became restless and began crying. It so distracted me that I could barely concentrate. Everyone in the room experiencedDISTRACTION. The balloons were waving. I seriously focused to get through it and people told me later that lesson was the best lesson of that particular series. We can focus through a distraction if we are prepared with the word.
(4) Allow people to tell us that we are distracted. Jesus told Martha,
Luke 10:41-42  "Martha, Martha," the Lord answered, "YOU ARE WORRIED AND UPSET ABOUT MANY THINGS, but only one thing is needed. Mary has chosen what is better, and it will not be taken away from her."
Jesus specifically told Martha that she was experiencing a DISTRACTION. If someone told you something like that when you were trying your best to do something for the Lord, how would you respond? The Bible does not tell the immediate response that Martha had to Jesus, but we do know that she did not allow it to offend her. Later we read about Martha's literally rushing out to meet Jesus.
John 11:20  Then Martha, as soon as she heard that Jesus was coming, went and met him…
Martha received instruction that many things distracted her. How about you? What are the many things distracting you? Can you handle it when someone tells you that some "thing" or some person is a distraction to you? If you will not, then it could take you out of your garden of the best life you can experience.
I want to end by telling you a story that I read about baseball. It's about Yogi Berra, a catcher for the New York Yankees, and Hank Aaron who is the home run king and became an Atlanta Brave. The teams were playing in the World Series. Yogi had a way of constantly distracting the batters of the opposing team by talking to them as they batted. When Hank came to the plate, Yogi tried to distract him by saying, "Henry, you're holding the bat wrong. You're supposed to hold it so you can read the trademark." Aaron did not say a word. When the next pitch came, Hank hit it into the left-field bleachers. After rounding the bases and tagging home plate, Aaron looked at Yogi Berra and said, "I didn't come up here to read."
Hank did NOT come up to read and now holds the record of the most homeruns hit in baseball using no steroids. What did you COME UP here to do? What fouls have and are you experiencing? What balloons are waving, and shaking behind your goal? Life is on the line. It is for your profit to serve the Lord with as few distractions as possible. Do not allow anything to get you off focus on faithfulness, or prayer, or reading God's word, or giving to the kingdom. Read your Bible and say "it is written" to any distraction. Sit at good teaching as Mary did. Get a hold of the one thing needed. Do not allow your distractions to distract others. Listen to people when they tell you that you are distracted. What did you come here to do? Was it to read the label, or hit a home run? Was it to make the shot and go on to the championship games, or be distracted by the balloons? By-the-way, back to my original story.  Karl Malone made the shot, and they went to the championship games. Can you make the shot?
Other Related Sermons:
Martha Only One Thing is Needed – video audio notes Luke 10:38-42
Hearing the Word of God – sermon video audio notes
Salvation and Resurrection of the Dead – sermon video audio notes
Also see: