---
I can recite The Lord's Prayer in 15 seconds, but sometimes I get lost in prayer talking to Father God. I think that's what the disciple witnessed when he watched Jesus pray. He wanted to experience and wanted others to experience what Jesus experienced , so he said, 'Lord, teach us to pray.'
THE GOSPEL ACCORDING TO LUKE CHAPTER 11
Lord, Teach Us To Pray pt 2 – Luke 11:1-4
By Delbert Young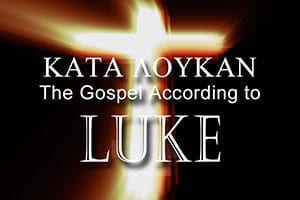 Lord, Teach Us To Pray pt 2 Luke 11:1-4
Scriptures: Luke 11:1-4; Matthew 11:12; Luke 17:20-30; Philippians 4:6
Last time we began looking at this section of scripture in Luke chapter 11:1-4. I was only able to cover the first two verses. Let's read it.
Luke 11:1-4 One day Jesus was praying in a certain place. When he finished, one of his disciples said to him, "LORD, TEACH US TO PRAY, just as John taught his disciples." He said to them, "When you pray, (1) say: "'(2) Father, (3) hallowed be your name, (4) your kingdom come. (5)Give us each day our daily bread. (6)Forgive us our sins, for we also forgive everyone who sins against us. (7)And lead us not into temptation.'"
How should we speak to the one who made us? That's what the disciple asked. How do I pray with confidence? What makes for effective sweet smelling prayer God loves and hears? Jesus laid it out for us.
Jesus gave us "Seven Big Ideas" about prayer. (1) Say something. Talk to God. Converse. Use the power of your creative words. (2) Say: direct your conversation to, Father. (3) Say: or talk about what an ideal Father he is. Thank you for being special to me. Hallowed be your name; (4) Say: talk about his kingdom coming; (5) Say: talk about your needs – daily bread. Father has a lot going on, but is concerned about your needs. (6) Say: talk about your weaknesses and mess ups, failing God – asking forgiveness – and weaknesses and failures of others toward you – everyone who sinned against you. (7) Say: talk about leading us away from temptation. This is what Father God wants to talk about. We're not done praying until, and we haven't truly prayed until, we talk to Father about these 7 Big Ideas.
Last time we talked about #1 "say," #2 "Father," and #3 "Hallowed be your name." It would be boring to me and to you if I recapped. You are smart people. If you were not here, or need a recap, you can get the notes, CD, DVD, or go online to www.lifegatechurch.com and get it all. I really want to start talking about #4 – "Your kingdom come."
 (4) Luke 11:2 "When you pray, say: …YOUR KINGDOM COME.
It's Father's kingdom. He owns it and placed his eldest son, my brother and Lord, as king. Surely, I've gotten the kingdom come thought across to us. We've discussed it in several teachings. A kingdom coming is not a sweet experience. A kingdom coming upon another kingdom, and that's the only meaning of a kingdom coming, is violent as it comes upon another kingdom.
Matthew 11:12 And from the days of John the Baptist until now the KINGDOM OF HEAVEN suffereth VIOLENCE, and the VIOLENT take it by force.
Look back in scripture and see what happened as God's kingdom came on Egypt, on Canaan, on Judaism (AD 70), or on you. Praying "YOUR KINGDOM COME" is praying "to come" whatever violence necessary to bring Father God's kingdom and the reign of Jesus Christ the King. I don't think people understand what they are praying when they pray "your kingdom come." When you think about it, what else can it mean?
Praying this for our lives suggest the same. Lord, do whatever violence you must do in my life necessary to bring your kingdom and Christ's reign in me. Deal with me by overthrowing every kingdom of darkness in me until your will is done in me as in heaven (Mat 6:10).
Once the kingdom comes there's righteousness, peace, and joy in the Holy Ghost (Rom 14:17), but until then its war. So, there is an aspect of the kingdom coming with violence "out there" and the kingdom coming within me. However, we never understand the kingdom coming "out there" for us until we first understand it comes within us. All we will see happening "out there" is bad things. Jesus talked about this in Luke 17. We will study it one day. I can't read the entire passage now, but I wanted to show Jesus speaking about this thought.
Luke 17:20-30 Once, having been asked by the Pharisees when the KINGDOM OF GOD WOULD COME, Jesus replied, "The kingdom of God does not come with your careful observation, nor will people say, 'Here it is,' or 'There it is,' because the KINGDOM OF GOD IS WITHIN YOU." Then he said to his disciples, "The time is coming when you will long to see one of the days of the Son of Man, but you will not see it… (26) "Just as it was in the days of Noah, so also will it be in the days of the Son of Man. People were eating, drinking, marrying and being given in marriage up to the day Noah entered the ark. Then the flood came and DESTROYED THEM ALL. It was the same in the days of Lot. People were eating and drinking, buying and selling, planting and building. But the day Lot left Sodom, fire and sulfur rained down from heaven and DESTROYED THEM ALL. IT WILL BE JUST LIKE THIS on the day the Son of Man is revealed.
The Son of Man is the King of God's kingdom (Dan 7:13-14), Jesus Christ. We can't identify the kingdom of God "out there" until it first comes within (2 aspects). All this sprang from the question the Pharisees asked about the kingdom's coming. The point is, when Jesus said, "When you pray say… your kingdom come," he didn't mean what we most often think today. The kingdom's coming "out there," or "within you" means serious adjustments, sometimes violent adjustments, being made. It's through prayer I align with Father about his kingdom coming. It's a big deal to Jesus for us to say, Father, Your kingdom come.
(5) Luke 11:3 "When you pray, say …GIVE US EACH DAY OUR DAILY BREAD.
Can we agree that most of our prayers are small in the "big scheme of things?" For example, I'm praying a Christmas tree won't fall over when people are battling cancer? I'm praying for a new car while the world is actually going to hell. Souls of people are literally going to hell as we pray to find a Christmas present, as a child prays for a Christmas present. Yet, God is still concerned about what I need and want. He wants to talk about them. I truly do not want to be in a position to need to pray about from where my next meal will come (though I have been there) and if the kingdom came with enough violence it could well be this way. I believe the point for us is to know we can depend upon Father for the base need – food. If we can depend on him for food, then we can for all needs.
(NLT) Philippians 4:6 Don't worry about anything; instead, PRAY ABOUT EVERYTHING. Tell God what you need, and thank him for all he has done.
By not talking with him about what we believe we need, we may never get it. I wonder sometimes how many great things I've missed out on in life because I didn't talk over things I wanted with Father.
Lance, our son now in his forties, recently had surgery on his nose. He had a deviated septum from a fall doing a gymnastic back flip when a teenager. The problem is he never told us about it. It's affected his sleep, breathing, and life. We would have gladly had it corrected for him, but instead he never told his father or mother. He felt we would be upset with him. We are upset. Not that he injured his nose, but he went through life with difficulty sleeping and breathing. How upset does Father God become when we refuse to tell him what is causing us difficulty and what we believe we need? It's a big deal to Jesus we say, Father, Give us each day our daily bread.
 (6) Luke 11:4 "When you pray, say …Forgive us our sins, FOR we also forgive EVERYONE who sins against us…
Jesus died for the forgiveness of our sins past, present, and future. Then why confess them if we're forgiven for them (1Jo 1:8-2:2)? No Christ follower is without sin no matter who they are or what they tell you. Realizing this and confessing this keeps us from being hypocrites (Luk 18:10-14), insures forgiveness, and being justified. We all fail God. That's called sin and Father wants to talk about it. Not to condemn us, but we likely will never overcome it until we do talk to Father about it. I don't know of a single failure in my life I overcame without talking to Father about it. Through prayer, we insure our forgiveness. This is extremely important. We kind of get this part, we think.
What we may not understand is the conjunction here – "for." There's a huge connection between our forgiveness by Father and our forgiving everyone we need to forgive. Not only have we failed Father, others have failed us. Forgiveness is not only something we receive. It's something a true Christ follower gives. We are forgiven to forgive. It could just as easy read, "Forgive us our sins, BECA– USE we also forgive everyone." Because we've been forgiven, we pay it forward to everyone who sins against us. How many do we forgive?Everyone. That's tough, but can be, and maybe only be, accomplished in prayer. I know the times when I truly forgave someone who deeply injured me was in prayer.
Can I lose my salvation and my forgiveness if I don't forgive? We're missing the meaning. The meaning is if you are forgiven, you will forgive. I admit. It's one of the most difficult things to do, but because you're forgiven, you forgive. Its proof Jesus is within. It's big to Jesus we say, Father, Forgive us our sins, for we also forgive everyone who sins against us…
(7) Luke 11:4 (When you pray, say…And lead us not into temptation.
The wording is strange. Father's not going to lead me into temptation (Jam1:13-15). It's better understood "lead us away from temptation." "Help me stay away from areas I will be tempted."
I remember my children (and grandchildren) being small and with me in a crowd. They couldn't see ahead. Big people and frightening things surrounded them. They would get close to me grabbing a finger wanting me to lead them through the maze of people and dangers of what could easily injure or kidnap them. I still remember how it felt to have their tiny hand grab a finger, or for them to want me to carry them through the maze. That's what a good father does. I loved giving them the security they needed.
I'm grown now, but things still get creepy. Sometimes I look around and the dangers are massive and frightening. Life sometimes remains a maze. Sometimes health issues want to kidnap our bodies and minds. Sometimes sin wants to hurt me. There are still mean people. What I must do is, as a little child, lock around Father's leg, tell him I'm afraid, ask him to hold me, and carry me until its safe again.
Prayer is a big idea to Jesus. He totally changed it. He tells us,
Luke 11:2-4 "When you pray, say: "'Father, hallowed be your name, your kingdom come. Give us each day our daily bread. Forgive us our sins, for we also forgive everyone who sins against us. And lead us not into temptation.'"
As I personally pray through these 7 Big Ideas, different issues and thoughts erupt as I say and talk with Father. One day, I may need to talk about someone who injured me and I need to work out my forgiving them. Another day, I may have what I consider a desperate need. Another day I may find myself talking about a temptation, but every day there is something within those big ideas I need to talk over with Father. Prayer isn't a recital. It's a discussion with Father about my life and his kingdom. Prayer is not rote. It's a relationship.
I can recite this prayer in 15 seconds, but sometimes I get lost in prayer talking to Father God. I think that's what the disciple witnessed when he watched Jesus pray. He wanted to experience what Jesus experienced in his life too, so he said, "Lord, teach us to pray."
Other Related Sermons:
Prayer, Friend At Midnight – sermon video audio notes
Prayer, Friend At Midnight pt 3 – sermon video audio notes
Mustard Seed – sermon video audio notes
Also see: