Power Of sermon series video audio notes. There are specific things which give us the power of life. These things not only empower us, they direct where we go and what we do with life. Without utilizing these empowering things, we accomplish nothing. We live wasted lives. With them understood and developed, we do great things. They may change completely over the years, but from them we acquire direction for our lives and a desire to accomplish great things.
Power Of…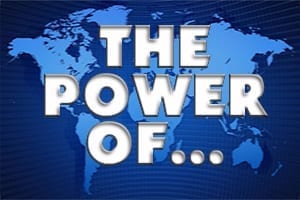 Power Of… sermon series video audio notes
Dreaming Until Your Dream Comes – A dream is a place bigger than you are right now. Your dream will keep you going every day. Your dream is something in front of you. It's what motivates you to get out of bed and do something worthwhile. Your dream makes you special and makes you different.
Dreaming Until Your Dreams Comes True – When God gives us a dream, there will be many dark, devastating times – hate, pits, lies, and prisons. Do what Joseph did. Remain in your faith. God will bring us to our dream and throne.
Biblical Financial Giving – What does the dreaded word 'tithe' mean anyway? Tithe simply means a percent. God teaches us to give a percent into three different areas: (1) Prevention tithe; (2) Intervention tithe; (3) Yourself tithe. Have you ever been told you are to tithe to yourself? To show you I know what I'm talking about and keep you interested, I want to show you the last one first – a tithe to yourself. It's in God's Biblical financial plan.
Power Of…
Give Careful Thought to Your Ways – Giving is an act of worship. A better way to say it is giving is a spiritual experience. It's more than passing the plates. Giving means something and should change something. It's like praise. Praise isn't only singing. It's a spiritual experience. Reading God's word isn't only reading. It's a spiritual experience. Prayer isn't simply talking into the air. It's a spiritual experience. The purpose of any spiritual experience of worship is to change our hearts. They transform us into who we should be. Sadly, most Christians don't know how to do biblical giving. They miss the power of giving financially. Give Careful Thought to Your Ways.
There are powers in thanksgiving to: 1) bring peace, 2) take you into your Promised Land, 3) change circumstances, 4) make you shine and have a supernatural life, 5) change or save your marriage; 6) affect your family; 7) could save your occupation; and 8) bless your church.
Power Of…
Handling Controlling and Manipulative people – these people devastate our lives if we allow them to control and manipulate us. They become stumbling blocks and are actually satanic. This is what Jesus told Peter he was being to Jesus. How do you handle controlling and manipulative people when they are nearly always close relationships – friends, spouse, relatives, etc.? Let's take a look and see exactly how to handle them.
Power Of…
Also see: