---
VALENTINE'S DAY SERMONS PAGE BY DELBERT YOUNG
Valentine's Day Sermons Videos Audios Notes – Valentine's Day is a sweet time. It's when we get to tell and express to the primary person we love how much we love them and why. It's symbolized by the heart. We say we are giving our heart to them. Isn't this how we are to love God? 
VALENTINE'S DAY SERMONS
By Delbert Young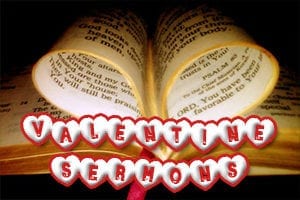 Valentine's Day Sermons Page
Understanding love – sermon video audio
Love is God. So, is loving godly? Love feels confusing. Yet, love is real. How do you know if you're in love. If you wanted to help your child understand if they were truly in love, what would you tell them? Do you always fell like you're in love? So, can you go by your feelings if you're in love? But, can you feel love?
Lust Looking and Loving – sermon video audio notes
Let's talk about the three dimensions of love. Bible students are thinking I am about to give us the three primary Greek words – agape, phileo, thelo. Nope, not today. I want to talk about a love we can all relate. This love consists of Lust, Looking, and Loving.
For a church to be effective, it must deal with real issues. Jesus dealt with real issues. Today we will deal with some real issues. It will help someone. It will help your children. It's somewhat of a tease for the upcoming series on Building A Home Or A Hell. When I teach about the family, I teach real stuff. I don't sugarcoat. The family is serious. It is about the most serious thing you will ever do. I don't want to be offensive, but I do want to be useful. The more things I deal with here should equate to the less you will need to deal with later.
Amazing Power of Love – sermon video audio notes
The point is Abraham and Sarah gave the amazing power of love to the correct person and the power of love eventually brought them both to finding their dreams. Abraham and Sarah's amazing love took them through the problems and glitches of marriage to the impossible.
Also see:
Life Gate Church sermons by Delbert Young