Valentine's Day Sermons Page video audio notes. Valentine's Day is a sweet time. It's when we get to tell and express to the primary person we love how much we love them and why. It's symbolized by the heart. We say we are giving our heart to them. Isn't this how we are to love God? 
Valentine's Day Sermons Page video audio notes
By Delbert Young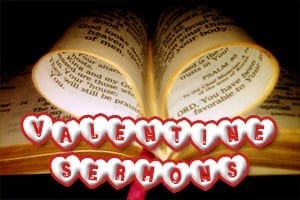 Valentine's Day Sermons Page video audio notes
Love is God. So, is loving godly? Love feels confusing. Yet, love is real. How do you know if you're in love. If you wanted to help your child understand if they were truly in love, what would you tell them? Do you always fell like you're in love? So, can you go by your feelings if you're in love? But, can you feel love?
Let's talk about the three dimensions of love. Bible students are thinking I am about to give us the three primary Greek words – agape, phileo, thelo. Nope, not today. I want to talk about a love we can all relate. This love consists of Lust, Looking, and Loving.
The point is Abraham and Sarah gave the amazing power of love to the correct person and the power of love eventually brought them both to finding their dreams. Abraham and Sarah's amazing love took them through the problems and glitches of marriage to the impossible.
The woman brought an alabaster jar of perfume. Perfume would be a tool of her trade not only for allurement, but also a body deodorizer. Alabaster is a stone. To make a jar the stone was hewn out. The perfume was poured in and sealed with a slim ceramic neck needing to be broken to access the expensive imported perfume. It's a picture of our heart. Inside every hard stony heart God's imported and placed an amazingly expensive perfume called love. It's an allurement attracting people to us and attracting people to God. It's a cleansing deodorizer for our souls. Love covers a multitude of sins
Apostle Paul prayed we would know a love that went beyond our comprehension. It's something I have not yet understood or experienced. It's the agape Jesus has and this brings a manifested presence of the Spirit. Jesus allowed the omnipresence of Father God to become the manifested presence of God.
Related Sermons:
Amazing Power of Love – sermon video audio notes
Lust Looking and Loving – sermon video audio notes
Alabaster Jar of Love Luke 7:36-50
The Gospel of Luke Chapter 7 video audio sermon notes
How Much is God's Christ Worth to Me – Palm Sunday sermon video audio notes
Valentine's Day Sermons Page video audio notes

Valentine's Day Sermons Page video audio notes
Also see: