---
ABRAHAM THE FRIEND OF GOD SERIES PAGE BY DELBERT YOUNG
Why at age 75 would a man leave all that was familiar and comfortable? What is so powerful that it caused Abraham to leave first Ur and then Haran to seek a land that he had never seen? How does a person like this become a friend of God?
ABRAHAM THE FRIEND OF GOD sermon series
ABRAHAM THE FRIEND OF GOD SERIES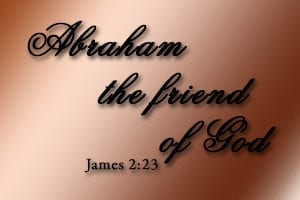 Abraham the Friend of God Series
Three times in the scriptures Abraham is called the friend of God. The Lord would visit Abraham and then Abraham, through his altar, would visit the Lord. What kind of friend is it who never visits? Surely not a very close friend. No  close relationship is that way. Relations we bless and relationships who bless us are those where visitations take place. We walk through the Scriptures with Abraham. The writings of the Scriptures give us much information to work with and from which we can learn.
Here are the titles of the study:
Abraham Acquaintance Or Friend? – sermon notes
When The Heathen (Pharaoh) Rebuke The Righteous – sermon notes
Irrevocable Decisions – sermon series notes
Meeting Melchizedek – sermon notes
The Covenant, Abraham Believed In The Lord – sermon notes
Sarai, Hagar, Abram Dilemma – sermon notes
Almighty Covenant – sermon notes
Let's Eat then Sodom – sermon notes
We Need A Dream – sermon notes
Isaac We Need To Be Weaned – sermon notes
Ishmael Mocking Isaac – sermon notes
Abimelech Is Watching – sermon notes
Death of Sarah – sermon notes
Helping Your Children Find A Spouse – sermon notes
Old Abraham Gave Up The Ghost And Died – sermon video audio notes
Other Related Sermons:
Does God Exist? sermon video audio notes
Hell – What Abut Hell? sermon video audio notes
Also see: