---
Achieving Singleness Before Marriage sermon video. The time between childhood and marriage is called the time of singleness. It is the time when we discover who and what we are. It is the time we begin to fulfill the will of God for our lives. We find purpose. In the purpose we become truly single. God's will consumes us. What God did to Adam at this time was interrupt Adam's life and present him with somebody. Adam was busy with the purpose of God. It's a time of singleness. 
BUILDING A HOME OR A HELL (01)
Achieving Singleness Before Marriage sermon video – "What's wrong with me?"
by Delbert Young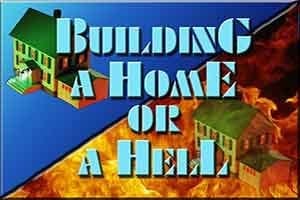 Audio
Achieving Singleness Before Marriage sermon video
Scriptures: Psalm 128:1-6, John 3:16, Galatians 1:4, Galatians 2:20, Ephesians 4:8, 11, 1 Timothy 2:6, Titus 2:14, Ephesians 5:25-28, Luke 6:38
Purpose today: Understand until a person achieves singleness they are not ready for marriage.
First text: Matthew 22:36-39
The time before marriage
Learn to love yourself
Why?
The problem
Second Text: Genesis 2:18-25
It is not good to be alone. It is good that some not marry.
False expectations
God's picture through Adam and Eve
Busy Adam
Do not believe you must marry. Believe you must fulfill the will of God.
Marriage was Adam's idea
Romans 12:2 And be not conformed to this world: but be ye transformed by the renewing of your mind, that ye may prove what is that good, and acceptable, and perfect, will of God.
One of the greatest problems I see in the church today is  God's people do not think correctly. They think like the world thinks. When we attempt to teach the scriptures in truth, people refuse to accept . They will not allow their minds to be renewed; rather they conform to the world. Because of this they never prove the good, acceptable, and perfect will of God. Allow me to give you one example of how even Christians conform to the world and never question society.
 Other Related Sermons:
Revelation Chapter 7, Four Corners of Earth, 144,000 – video audio notes
Revelation Chapter 15, Mighty Angels, Last Plagues, Song of Moses Song of the Lamb – sermon video audio notes
Revelation Chapter 4, The Throne, Sea of Glass, Four Beasts – sermon video audio notes
Also see: