---
Magnify the Lord The Magnificat – We take a look at Mary's song. We will learn much about Mary and hopefully much about ourselves. We will be challenged as to how we individually live out our relationship with God. Do we magnify the Lord?
Magnify the Lord The Magnificat (Luke 1:48-56)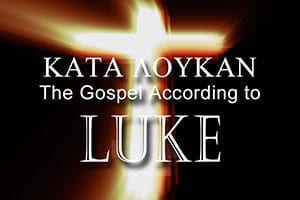 Is your relationship with God from the bottom up or from top down? Bottom up is when I begin with my personal good or bad experience and project that experience onto God. When things are good, God is good and my relationship with God is good. When things are bad, troubling, difficult, and complicated I distance from God wondering where is God. Has he forgotten about me? Is there even a God? I won't go to church today. My giving suffers, worship suffers, ministering to others suffers, etc. I become very critical and judgmental. Perhaps bounce around to a few churches and eventually lose faith and my relationship with God altogether. I run from God and not to him when experiencing tough times or when in sin. In the bottom up relationship my worship is self-serving and narcissistic. Many (most) Christians live in a bottom up relationship with God. However if like Mary we will magnify the Lord.
A top down relationship is when God is always who he says he is no matter what I am going through. I magnify the Lord. What I am experiencing, no matter if I sinned to cause it, made a mistake, or can't figure out why in the world it's happening, doesn't' matter. I magnify the Lord. God will somehow work it out for me and my good. I know God is working on my character, changing me, using me, and glorifying me. God is good all the time, loves me all the time, forgives me every time, and uses me for his glory. When this is the relationship, I run to God in bad, troubling, difficult, and complicated times. I magnify the Lord. Instead of life's complications depreciating my attendance, giving, worship, ministering to others, etc, they I magnify the Lord and enhance every part of God's realness.
I remember a time I needed something turned around. I knew in the Old Testament when they wanted something turned around they brought an offering and worshiped God. So, that's what I did. I gave a large offering, worshiped intensely, and found someone to pour minister into. I magnify the Lord. My situation changed. Today, instead of my giving and serving depreciating when times are tough, I find a way to give more and serve more. I run to God, not from God. Sadly, this is how the minority of Christians live. Which are you? Today, we will be challenged by young Mary to magnify the Lord.
As we've said, Mary's story actually begun in the book of beginnings, Genesis 3:15 as the Lord said to the serpent the seed of a woman would crush the serpent's head. She is easily seen in Isaiah 7:14.
Isaiah 7:14 Therefore the Lord himself shall give you a sign; Behold, a virgin shall conceive, and bear a son, and shall call his name Immanuel. [KJV]
Mary was a very young woman in Luke 1. In our society she would be considered a girl as she was most likely closer to twelve than twenty. Mary was "pledged" (1:27 NIV), or "espoused" (KJV) to a young man. We would say a boy named Joseph. Our society calls it engaged. In that culture, a girl could be pledged as young as twelve and marry as young as thirteen. Mary lived in a very small town/community called Nazareth. The angel Gabriel came to Mary telling her she was chosen (elected) by God to be the woman of Isaiah 7:14, the virgin mother of Immanuel. Mary asked how that would happen. Gabriel said the Holy Spirit would come upon her enabling her to conceive, told her Elizabeth, Mary's barren elderly relative supposedly beyond child bearing years, was miraculously pregnant, and Gabriel left. Mary immediately and hurriedly went to see Elizabeth some 70 miles away.
Mary knew what Gabriel said to her. Elizabeth believed and understood what happened to Mary. Something similar happened to Elizabeth and her husband Zechariah, but how difficult would it be for anyone else to understand or believe, especially Joseph or Mary's family? What would people say about Mary? They would say something like this: "Mary seemed such a sweet godly girl, but she went to see Elizabeth seemingly a virgin and came back pregnant. As to how and why she was pregnant, Mary said an angel came to her and the Holy Spirit came upon her and now she is pregnant. Sure! I just bet God sent an angel to tiny unimportant Nazareth to a peasant girl. Sure, everyone will believe that, right?"
My point is Mary had many concerns and worries. She would be ridiculed as a loose woman for the rest of her life. Joseph could reject and divorce her. Any man might reject her. She could be a single mom attempting to feed a baby in a time when women had little worth. What would her friends say? She had brought disgrace upon her parents and family especially in a small town. What will grandma say? Mary didn't know what would happen. She was a very young girl who was expected to birth and raise Immanuel. Everything was at stake for Mary. She had concerns and worries, but desperately wanted to be the Lord's handmaid servant doing his will. All Mary did was magnify the Lord and allowed the Lord to take care of the grief.
How about you? Do you have any worries and concerns that attempt to override God's will for you? It could be your health? Do you magnify the Lord? How about your finances, your marriage, your children, your occupation? Do you magnify the Lord? What does the community say about you? Are worries and concerns keeping you from doing God's will, keeping you from church, from ministering, from giving, from worshipping. We call ourselves the servants of the Lord, but are we really? I want us to see what this young woman/girl facing severe worries and concerns did. What you will see is rather than worrying we find Mary worshiping.
Luke 1:46-49 And Mary said, My soul doth MAGNIFY THE LORD, And my spirit hath rejoiced in God my Saviour. For he hath regarded the low estate of his handmaiden: for, behold, from henceforth all generations shall call me blessed. For he that is mighty hath done to me great things; and holy is his name.
Instead of worrying Mary began worshipping. Jesus tells us not to worry.
Matthew 6:34 Therefore do not worry about tomorrow, for tomorrow will worry about itself. Each day has enough trouble of its own. [NIV]
What are we supposed to do then? Instead of worry, we should worship. People allow things to become idols, which always bring them to worry. For example, if a person's idol is money, they worry amplifying their money situation. If a person's idol is their spouse, they worry about thus magnifying their spouse. When idols are gods they always disappoint, but when God is God, well, you don't worry about God. Instead of worrying in questionable times, you worship. God becomes even larger. Amazingly, when this is active in one's life, when crazy things happen, and they always do, instead of those crazy things keeping you from God, crazy times bring you closer to God. Think about it. Most Christians distance from God in tough questionable times. How many times have you watched Christians nearly backslide in tough times? Mary drew closer to God. She worshiped instead of worried. What do you do?
Mary said, My soul doth magnify the Lord, and my spirit hath rejoiced in God my Savior. Mary didn't magnify her unknown situation. She magnified the Lord. She made the Lord even bigger in her life than he already was. Her spirit rejoiced. The deepest part of her rejoiced in God.The word rejoiced is agalliao in the Greek meaning to jump for joy, i.e. exult. John is leaping in his mother Elizabeth's womb. Elizabeth is prophesying and Mary is magnifying jumping for joy. They are having a meeting. It's difficult to be calm and still when magnifying the Lord.
Mary, though most likely not formally educated, has a tremendous knowledge of scriptures as she begins jumping, rejoicing, and singing. Obviously, she heard the scriptures from her parents and in the synagogue. How important is it for our children to hear us talk about the scripture? How important is it to make certain our children hear scriptures? Mary put them in her heart and here she sings her amazing Magnificat song. Mary was obviously a worshiper. In her worship, Mary linked many scriptures together – 1 Samuel, 2 Samuel, Deuteronomy, Job, Psalms, Isaiah, Ezekiel, Micah, Habakkuk, and Zephaniah, probably more. It's amazing. This young woman/girl knows who God is.
God is the Lord – My soul doth magnify the Lord. God is Lord over all, over people, Satan, religion, everything. God is in control and even in control of my situation. It's easy to say Jesus is Lord when things are going great, but when you are a pregnant teenager can you still say it? When life has suddenly taken a huge turn to the unknown can you live Jesus is Lord?
God is Savior – rejoiced in God my Savior. Mary acknowledged herself as a sinner needing a Savior. Mary wasn't sinless as sometimes taught. Mary, like you and me, need a Savior – soter meaning a deliverer, i.e. God or Christ. The thought is "Hero." God was Mary's hero deliverer. When we worship instead of worry, God is our hero. Amazingly, Mary's hero was in her own womb.
Luke 1:48 for he has been mindful of the humble state of his servant. From now on all generations will call me blessed, [NIV]
God is Omniscient – God knows and sees everything. …for he has been mindful of the humble state of his servant. Mary said God knows everything about me – I'm poor, I'm young, I'm full of concerns, I'm pregnant… Your bottom up or top down view of God is so important. Mary had a top down relationship with God. In the natural, Mary was in a very humbling state, but she MAGNIFIED the Lord. God knows what you are experiencing. He knows it all. He knows me and pays attention to tiny little me. Do you believe that? If you do, you will sleep differently.
What is stressing you right now? Have you worshiped about it? I don't feel like worshiping. That's the problem. How do you worship when you don't feel like worshiping? You worship your way into worship. You say it or sing it until you feel it. It's easy to sing because you feel it, but when you don't feel it, you sing so you can feel it.
God is generational minded – from now on all generations will call me blessed. Through Mary's worship of God, she could see beyond her present dilemma. She would be forever known as the person God selected to be the mother of God.
Luke 1:49 for the Mighty One has done great things for me – holy is his name. [NIV]
God is the Mighty One. Not "a" mighty one. Nothing compares to his might, so whatever I'm going through, God is not only aware, but overseeing to make it work out for him and me. It does not mean I will not experience complicated times. It does mean the complicated times, Satan, nothing can defeat God.
Mary said, God has done GREAT THINGS FOR ME! Do you believe that about yourself? That makes you worship, not worry, run to God, not from him. What great thing has God done for you? I know there's something he's done and more he will do. Are you depressed or stressed? Think about the great things God has done for you. From what has he forgiven you? How has he blessed you? How has he changed you? From what situation has he delivered you?
Holy is his name. God is holy. God is good all the time. Sometimes Christians think God is punishing them. If you have received Jesus as Lord then God has forgiven you of every sin. It would be unholy of God to punish you, so it's not God punishing you. There are consequences to the things we do which we bring on ourselves – eat too much, drink too much, smoke too much, not control our thinking, etc. We don't take care of our bodies and they become sick. That's not God judging. That's reaping what we sow (Gal 6), not God. HOLY IS HIS NAME.
Luke 1:50-53 His mercy extends to those who fear him, from generation to generation. He has performed mighty deeds with his arm; he has scattered those who are proud in their inmost thoughts. He has brought down rulers from their thrones but has lifted up the humble. He has filled the hungry with good things but has sent the rich away empty.
Not only does God do great things for me. God does great things for others and to generations who fear him meaning reverence him, worship him, honor him. Mary worshiped God for what he does for others. Nothing makes me happier than to watch God move in the lives of others. Perhaps he isn't doing something for me at this moment, but I can easily look around and watch him doing good things for you. Instead of coveting the blessings others experience, a true worshiper worships God thanking God for blessing others so much.
Mary related to the kingdom. He has brought down rulers from their thrones. God brings down the proud and establishes his kingdom lifting up the humble. Have you ever been humbled – disgraced, lied about, done wrong, raped, molested, made to look evil, etc. God will bring them down and lift you with his mighty arm when you continue to fear him. His mercy extends to those who fear him, from generation to generation.
Luke 1:53 He has filled the hungry with good things but has sent the rich away empty. [NIV]
It's the Christmas season as we teach this. I want to speak to our generosity not in giving of tithes and offerings, but in giving to the hungry with good things. Sadly, there are people all over the world who won't have the Christmas you will have. Sadly, there are people in our cities who won't have the Christmas you will have. The God in you wants you to help fill them with good things, not cheap things, not things you no longer want. Good things. If we refuse then it could be us who are sent away empty. Maybe you know a single mom struggling to make life work. Help her with good things. God gives good things. What "hungry" person have you blessed with good things lately?
Luke 1:54 He has helped his servant Israel, remembering to be merciful to Abraham and his descendants forever, even as he said to our fathers." [NIV]
Mary said God helps his servants. There will be a time when you will need God's help. We need his help. He wants our service. People sometime ask in tough times, "Where's God?" God asks, "Where are you?"
Mary sang about how God remembers to be merciful. I don't, but God always does. There are some people my mercy ran out, but not God. He was even merciful to the children of Israel through all their dysfunction, murmuring, idolatry, and sin. God remembers to be merciful with me, HALLELUIAH! God is merciful from generation to generation. God will be merciful to my descendants forever – my children, grandchildren, and my generations to come because I am a servant.
Mary looked back and saw how God moved in her ancestors – even as he said to our fathers. When in worrying troubling times look back. God brought you through other things. He moved in the lives of your parents if they were godly. He's moved in the lives of others. He will take care of you too and he will do it FOREVER!
Zephaniah 3:17 The LORD your God is with you, he is mighty to save. He will take great delight in you, he will quiet you with his love, he will rejoice over you with singing." [NIV]
Mary sang. Humans are created to sing and rejoice because God sings over us to quiet our tough times with his love. As you sing and rejoice worshipping instead of worrying, God shows up mighty to save singing back over you. As we worship, God responds by singing to you and loving you.
How difficult is it for you to worship instead of worry? How difficult is it for you to sing to God instead of doubting and questioning God? It's really tough for us men. We play ball. We never break into singing on the ball field. We go hunting. We never break into song in the woods. We come to church and are expected to raise our hands and sing. That's foreign to us. The whole thing somehow seems effeminate. It's difficult for us to get our heads wrapped around us being the "bride of Christ" loving our husband Jesus.
How can we guys get beyond that? How about this: God is mighty to save. God has a strong right arm reaching to the helpless. God rides in his chariot. God overthrows tyrants, takes care of the weak, widows, and orphans. When I worship Jesus, I don't necessarily see him as my husband. Rather, I see him as the mighty warrior leading the Lord's host into battle, saving, conquering, victorious, defeating death and hell, triumphantly helping me help others, be victorious in life, lead my family to victory, conquer evil in my life, etc. That's the Jesus I sing to. THAT'S WHY I PRAISE HIM, THAT'S WHY I SING, THAT'S WHY I OFFER HIM MY EVERYTHING. That's why we men can jump up at a sporting event. Someone does something amazing. We jump. We shout. We shoot our hands into the air. Jesus is amazing. If you will see him that way, you will shout.
Luke 1:56 Mary stayed with Elizabeth for about three months and then returned home. [NIV]
You will read right over this and miss something important.
Luke 1:26 In the sixth month, God sent the angel Gabriel to Nazareth, a town in Galilee, [NIV]
This is referencing Elizabeth being in the sixth month of her pregnancy with John the Baptist.
Luke 1:39 At that time Mary got ready and hurried to a town in the hill country of Judea, [NIV]
Six months plus three months equals nine months. Mary was there when John was born and came back to Nazareth three months pregnant.
Other Related Sermons:
The Baby Leaped – video audio Luke 1:39-45
Mary Mother of Jesus – video audio notes Luke 1:26-38
Present Your Family to the Lord – video audio Luke 2:21-40
Also see: