It's a command to rejoice, but not about personal success. Over and over we are instructed and encouraged to be joyful in spite of all circumstances. Hundreds and hundreds of times the terms "rejoice" and "joy" are used in the scriptures.
THE GOSPEL ACCORDING TO LUKE CHAPTER 10
Do not Rejoice About Success – Luke 10:17-21
By Delbert Young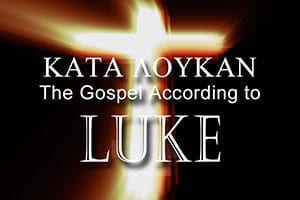 Audio
Do not Rejoice About Success – Luke 10:17-21
Scriptures: Luke 10:17; Luke 10:18-19; Revelation 12:7-10; Luke 10:20-21; Philippians 4:4; Nehemiah 8:10; Romans 14:17; John 6:66-67; Revelation 20:12-15
We learned last time that a response Jesus has to our excuses and lack of urgency concerning the harvest is to use teams. Jesus sent out teams with instructions that if rejected, wipe the dust off your feet and speak woes to the town. The teams returned.
Luke 10:17 The seventy-two RETURNED WITH JOY and said, "Lord, EVEN THE DEMONS SUBMIT TO US IN YOUR NAME."
The result of teams is success and joy. There is a tremendous amount of fulfillment and joy when part of a team. We contribute to the overall ministry. We do something for God. There's a special feeling of joy that comes with being connected to each other. Do you agree? Once again I ask, what team(s) are you on?
A part of the reason they returned with joy was "…demons submit to us in your name." This was new and "amped" them up. They were stoked. It empowered them and ignited a new fire in them. Is this how we feel about demons, or do we cower to demons? How do most "Christians" respond to even the thought of demons? Is it fearful maybe? Correct? Do we get joyful when we have the opportunity to pray for someone and set them free? We should. You can handle demons and Jesus is about to tell us why. Don't fear demons.
Luke 10:18-19 He replied, "I SAW SATAN FALL LIKE LIGHTNING FROM HEAVEN. I HAVE GIVEN YOU AUTHORITY TO TRAMPLE on snakes and scorpions and to overcome all the power of the enemy; nothing will harm you.
I'm about to take us to the Book of Revelation, so notice the context of Satan falling from heaven was the success of the teams Jesus sent out consisting of Christ followers like you and me. These were not super hero Christians. The point is Jesus does not want you fearful of demons.
Revelation 12:7-10 And there was war in heaven. Michael and his angels fought against the dragon, and the dragon and his angels fought back. BUT HE WAS NOT STRONG ENOUGH, and THEY LOST THEIR PLACE IN HEAVEN. THE GREAT DRAGON WAS HURLED DOWN — that ancient serpent called the devil, or SATAN, who leads the whole world astray. HE WAS HURLED TO THE EARTH, and his angels with him. Then I heard a loud voice in heaven say: "NOW HAVE COME THE SALVATION AND THE POWER AND THE KINGDOM OF OUR GOD, AND THE AUTHORITY OF HIS CHRIST. For the accuser of our brothers, who accuses them before our God day and night, HAS BEEN HURLED DOWN.
Jesus saw this happen two-thousand years ago, right? The point is the Book of Revelation is not primarily about eschatology and end times for us. It was end times for THEM in THAT generation. If interpreted in this manner for us, we lose its meaning and push things already fulfilled to a fictitious "end of time," opening the door to all sorts of false doctrines. The Revelation of Jesus Christ is primarily about exactly what Revelation 12:7-10 said: the coming of salvation, power for the believer, the kingdom of our God, and the authority of his Christ. Mortal people controlled demons through the name of Jesus Christ.
The Revelation also talks about scorpions (Revelation 9:3-10). Snakes and scorpions are excellent metaphors for Satan and his demons. We feel similar in the natural toward snakes and scorpions as we feel in the spiritual toward Satan and demons. Snakes and scorpions were/are ever present dangers in the land of Israel. I read there are twenty-five species of snakes with nine being poisonous and twelve species of scorpions found in the region, so they understood the metaphor. The point is this: exactly as we have authority to trample snakes and scorpions, we have the same authority in the spiritual realm to trample demons. Jesus said "Nothing will harm you." They cannot harm you when you are trampling them. Do not fear demons. They fear you.
Jesus then said,
Luke 10:20-21 However, DO NOT REJOICE THAT THE SPIRITS SUBMIT TO YOU, but rejoice that your names are written in heaven." At that time JESUS, FULL OF JOY through the Holy Spirit, said, "I praise you, Father, Lord of heaven and earth…
The scriptures speak of Jesus as "a man of sorrows, and acquainted with grief"(Isa 53:3), but he is also the God of joy. Christians are to be joyful, right?
Philippians 4:4 Rejoice in the Lord ALWAY: and again I say, Rejoice.
It's a command. It's sad we have to be commanded to rejoice. Over and over we are instructed and encouraged to be joyful in spite of all circumstances. Hundreds and hundreds of times the terms "rejoice" and "joy" are used in the scriptures.
Nehemiah 8:10 …This day is sacred to our Lord. Do not grieve, for THE JOY OF THE LORD IS YOUR STRENGTH."
True joy is connected with the Lord God and his kingdom (Rom 14:17).
Romans 14:17 For the kingdom of God is not meat and drink; but righteousness, and peace, and JOY IN THE HOLY GHOST.
The more we understand this connection, the stronger and more stable in mind, body, and spirit we become even during hideous circumstances.
Hideous times would be the case of Jesus knowing he is only months away from the most hideous execution imaginable. After ministering about two years, crisscrossing Galilee, visiting countless towns, villages, and homes, ministering to multitudes with miracles, raising the dead, healing, deliverance and teaching, the entire area basically rejected him.
John 6:66-67 From this time MANY OF HIS DISCIPLES TURNED BACK AND NO LONGER FOLLOWED HIM. "You do not want to leave too, do you?" Jesus asked the Twelve.
It seems other than the small caravan traveling with him, few truly believed. We noted this fact last time as he spoke woes to towns where he miraculously ministered, but who woefully rejected him. We studied how a town in Samaria rejected his coming. He will be further rejected in Judea and Jerusalem. The Jewish leadership was already plotting to kill him.
Think about this. Amazingly after his resurrection, Jesus went back to Galilee (Mat 28:7-17) where it seems only five hundred people showed up for the ascension and some of them doubted (1Co 15:6; Act 1:11). How do you doubt the resurrection? In Jerusalem only one hundred and twenty remained faithful (Act 1:15). This was after the resurrection and ascension!
Certainly, there were moments of great success such as these returning teams experienced, but the massive rejection and rampant growing hostility was far greater than the successes. Success came, but success went. All in all it's unimaginable how the Son of God could come, do all he did, say what he said, amaze everyone, and yet end with such seemingly meager success. He seems a failure, yet, we read, "Jesus, full of joy…" Why, because he's the man of sorrows but yet he is the God of joy. If anyone can point them and us to true joy, it is Jesus.
Jesus instructed them to not rejoice about their successes. Isn't this interesting? True joy is not in success. He said don't rejoice even about ministry success and casting out demons. Why? Success, and probably especially ministry success, comes and goes. It's like the tide. It comes in and it goes out. I know! Jesus said though you saw great evidence to the response of your ministry don't tie your joy to success. If you attach your joy to your successes, you will destroy yourself and go insane feeling a rejected failure. You will live a depressed existence. "Do not rejoice that the spirits submit to you."
I know God's hand is on our church. I've watched him for nearly three decades sustain, provide, and do amazing things in the lives of many including me and my family. I've seen what seemed to be great success. Yet, at the same time, I've experienced disappointment after disappointment, rejection after rejection. Success came, but success seemed but a fleeting moment. I could easily ask today according to appearance, "After three decades, is this it? This is what thirty years of giving our lives produced? All the hospital visits, counseling, studying, sermons, praying, weeping, weddings, funerals, baby dedications, baptisms and this is it?"
What Jesus is telling me, and I pray you, is we can't attach our joy to what appears on the surface as success. If I/we do, the failures appear much larger than the successes. I would have no joy. I would be one depressed, stressed, sick, angry, and rejected man. Instead, I am to know my name is written in heaven. I've done what Jesus sent me to do, but not only that. Because of his use of me, not only is my name written in heaven, but many names are written in heaven. Many of your names are written in heaven. I can rejoice in that! That joy gives me strength to go on. That joy is full and connected with God and his kingdom. That is kingdom joy in the Holy Ghost.
Here's the point. We all allow our accomplishments to determine our joy as did the returning disciples. We tie our level of joy to results and accomplishments, or the lack of them. Jesus said it's great to have authority over evil and to trample demons. It's great to be successful, but what truly should cause you to rejoice is in knowing your names are written in heaven.
There are several references of God writing names in and, interestingly, blotting names out of his book (Exo 32:32; Psa 69:28; Isa 4:3; Dan 12:1; Phi 4:3; Heb 12:23; Rev 3:5; Rev 13:8). Let's read the last one.
Revelation 20:12-15 And I saw the dead, great and small, standing before the throne, and BOOKS WERE OPENED. ANOTHER BOOK WAS OPENED, WHICH IS THE BOOK OF LIFE. The dead were judged according to what they had done as recorded in the books. The sea gave up the dead that were in it, and death and Hades gave up the dead that were in them, and each person was judged according to what he had done. Then death and Hades were thrown into the lake of fire. The lake of fire is the second death. IF ANYONE'S NAME WAS NOT FOUND WRITTEN IN THE BOOK OF LIFE, HE WAS THROWN INTO THE LAKE OF FIRE.
How about you? Is your name written in his book of life? Jesus said anchor your joy to the book of life.
What a great segue for us to move into water baptism.
Other Related Sermons:
Easter Nonsense – sermon video audio notes
I SEE GRACE pt 2 – Easter sermon video audio notes
Joy, neighbor, and the Good Samaritan – video audio notes Luke 10:21-37
Also see: