Church We Have A Problem sermon video audio notes. The words from Apollo 13 were Houston we have a problem. The only concern of Houston became to get the men in trouble home. They refocused everything. I want us to refocus. What will it take for us to realize that precious people are in trouble out there? Can we get them home in time? If we can't, then Church, We Have A Problem. Do those lost really matter to us?
Church We Have A Problem
by Delbert Young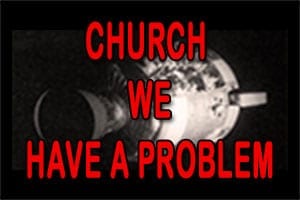 Video
.
.
Audio
.
Church We Have A Problem 
Scriptures: Luke 15:1-2, Luke 15:7, Luke 15:10, Luke 15:20-24, Luke 15:28-30-32, Matthew 6:21
On April 11, 1970, Apollo 13 launched and began a journey to the moon and a lunar landing with three astronauts aboard. Fifty-six hours into the mission, the ship was 200,000 miles into space. The men had just said their goodnights to their families when at 10:06 PM, April 13 EST, an explosion happened onboard the spacecraft. The number 2 oxygen tank exploded blowing away the side of the spacecraft. Amazingly, the three astronauts were alive. The next words spoken were, "Houston, we've had a problem here!" The command center in Houston, Texas had observed many of the emergency lights come on when the explosion happened and, when hearing the voice of the astronaut, asked them to repeat. The reply came, "Houston, we have a problem."
The situation was serious. Not only was the spacecraft severely damaged, but also it was leaking oxygen for the astronaut's survival into space. They would die lost in space unless those they were talking with in Houston could find a way to get them home. Their very lives depended upon those people in Houston, Texas.
You and I have loved ones and friends who are lost out there. They are in trouble. One day, their oxygen will give out and unless you and I – those in the Church with whom they are talking – can find a way to get them home, they will die lost. We see the emergency lights. We know they are in serious trouble. Can we get them home? My lesson today is titled, CHURCH, WE HAVE A PROBLEM.
Today I want us to take a look at our hearts.
I want us to refocus. What will it take for us to realize that precious people are in trouble out there? Can we get them home in time? If we can't, then CHURCH, WE HAVE A PROBLEM. Do those lost really matter to us?
Church We Have A Problem
The lost mattered to Jesus. Once, he was teaching and some church people complained about his "Outreach Ministry". He spent a lot of time and money on sinners.
(NLT) Luke 15:1 Tax collectors and other notorious sinners often came to listen to Jesus teach.
Luke 15:2 This made the Pharisees and teachers of religious law complain that he was associating with such despicable people – even eating with them!
These "church people" were interested in the teachings of Jesus for themselves. See, their lives were working. They were heading in the right direction but didn't care about those whose lives were heading in the wrong direction. THEY HAD A PROBLEM. Sometimes we don't feel our lives are heading in the right direction, but we should be so much further along than those without Jesus.
In an attempt to encourage them to care about the lost, Jesus told three stories (parables). You remember them, right? They are called the Lost Sheep, Lost Coin, and the Prodigal. It was interesting to me that of these three stories, he took four verses to talk about the Lost Sheep, and three verses to talk about the Lost Coin, but he took TWENTY-TWO VERSES to teach about the prodigal.
The Lost Sheep is about a shepherd who left his flock and went searching relentlessly to find one sheep that was lost. God sees us as sheep. Sheep sometimes do dumb things and are defenseless against wolves. There are times we must shift focus, leave everything else, and go after that sheep that is lost. In the parable, the shepherd found the sheep. Jesus ended that first story by talking about how heaven rejoices when one person comes to repentance.
Luke 15:7 I tell you that in the same way there will be more rejoicing in heaven over one sinner who repents than over ninety-nine righteous persons who do not need to repent.
Repentance doesn't always mean being sad and crying like we mostly think. It means changing our lifestyles. It means thinking differently and changing directions. Jesus said that heaven rejoices more over one person who changes his or her lifestyle than over ninety-nine who don't need to change directions.
Church We Have A Problem
Jesus told the second story. A woman relentlessly searched for a coin that she had misplaced until she found it. God sees the value of people. Have you ever misplaced a lot of money? Wouldn't it be great if we went looking for the lost like we looked for money? Again, Jesus ended the story with rejoicing in heaven when one repents.
Luke 15:10 In the same way, I tell you, there is rejoicing in the presence of the angels of God over one sinner who repents.
Then Jesus told the third story. It was about a father who had two sons. The younger son wanted his half of the inheritance, which was sort of like him saying, "Dad, I wish you were dead." Nonetheless, the father gave it to him. The son took it and "squandered his wealth in wild living." It was a wasted life. Eventually, the son found himself feeding pigs and eating pig's food. The Bible says, "…he came to his senses." He repented – and went back to his father. Here is what Jesus said happened as he came home.
Luke 15:20-24
20 So he got up and went to his father. "But while he was still a long way off, his father saw him and was filled with compassion for him; he ran to his son, threw his arms around him and kissed him.
21 "The son said to him, 'Father, I have sinned against heaven and against you. I am no longer worthy to be called your son.'
22 "But the father said to his servants, 'Quick! Bring the best robe and put it on him. Put a ring on his finger and sandals on his feet.
23 Bring the fattened calf and kill it. Let's have a feast and celebrate.
24 For this son of mine was dead and is alive again; he was lost and is found.' SO THEY BEGAN TO CELEBRATE.
Church We Have A Problem
That was where the parable should have ended, right (rejoicing)? Jesus ended the other two there. However, Jesus didn't end it there. He needed to help those "church people" understand why they should reach the lost.
If you have trouble motivating yourselves to relentlessly pursue the lost, if you have trouble with dumb things that people do and they are being devoured by life, if you have trouble seeing the value of people, if you have trouble with people with wasted lives, then please listen to this.
Luke 15:28 The older brother became angry and refused to go in. So his father went out and pleaded with him.
The older brother was angry because his brother made it home and his father still loved him. Why was he angry?
First, he felt like serving Father was slavery.
Luke 15:29 But he answered his father, 'Look! All these years I've been slaving for you and never disobeyed your orders…
Many Christians feel that way. They are slaves to the church. They have to obey God's orders. We will never have a right heart about the lost if we feel serving God is slavery.
Secondly, he was angry because his brother wasn't punished.
Luke 15:30 But when THIS SON OF YOURS who has squandered your property with prostitutes comes home, you kill the fattened calf for him!'
He didn't see him as his brother or in a relational way. My point is that many Believers feel today that "God should punish those sinners. He should rapture us to streets of gold and burn up those sinners." That's in most of today's theology, but see, it's not in the theology of Jesus. Here is what the father said.
Church We Have A Problem
Luke 15:32 But we had to celebrate and be glad, because THIS BROTHER OF YOURS was dead and is alive again; he was lost and is found.
How do we see the lost? Do we see them as relational? Do we want them punished, or do we want to save them from death? The older brother in the parable is the church who wants the lost punished. He should have gone and relentlessly searched for his brother. Instead, he would have let his younger brother die lost in space. Would we? Will we?
Those in Houston cared about their lost. They became relentless. Let me show you a second clip from Apollo 13. It's about how they fixed their problem. Let's fix ours, ok? (SECOND CLIP)
Let's make it simple. Yes, those far from God have a problem. But, has their problem become our problem like the astronauts' problem became the problem of everyone at Houston? Let me ask you who have you gotten home this year? Have you done everything possible to save one lost sheep? Has there been any time this year when you forgot about everything and focused on saving one person? What about Life Gate? Are we a church that really cares about those lost in space? CHURCH, WE HAVE A PROBLEM. People are depending upon us to get them home. Will we?
Five Primary Issues That Fixed the Problem
They acquired what they needed to get the job done. Gene Kranz said, "I need another computer… Alert your support teams. Wake up anybody you need and get them in here." We will need to do the same thing. We will need some teams. The teams need to wake this church up. We will need your resources.
Church We Have A Problem
Everyone became extremely busy and extremely serious. There was a busy buzz going on to fix the problem. We need to have a busy buzz about OUTREACH. A buzz will mean that we are serious about it. It means we are planning and talking and excited.
They took what the lost astronauts had to work with and used it to get them home. They made a square box fit into a round hole. We must make the lost fit in the kingdom. We need to look from the lost person's perspective. What do the lost have that we can use to get them home (music, children, problems, etc.)? What can we use to get them home?
Houston forgot the original flight plan and improvised a new mission to get their people home. Friends, we have been here for nearly 20 years trying to reach this region with the gospel of the kingdom. Our "flight plan" will need to be modified if we are going to get people home. I am willing. Are you? We have got to see that getting people home is our most serious problem.
Everyone put their minds together and came up with a plan.
It was no longer important what any one thing or ministry was designed to do. What could it do to get people home? Anything short of that purpose was not acceptable. They refused to lose those men. They were relentless.
I believe that if we in this room today put our minds together we can come up with a plan that will get the lost home. It's going to require every thought. No thought or idea is too far "out there." We will look at it. Your idea may be the very idea that makes it happen. We have got to refuse to lose those people. If we will do these things and put our minds together, we will get them home.
Church We Have A Problem
I want to show you the third clip from Apollo 13. I want you to see it's going to require prayer. There will be problems, but it will be our finest hour. There is a critical moment as they enter the atmosphere of the kingdom. Moreover, there will be an inferno as all hell breaks loose on those trying to enter. Will what we have done – the heat shield – hold? It will and there will be rejoicing in heaven. Don't give up. We must keep waiting and watching just as the father of the prodigal. It takes a lot of people and resources to bring one person home, but let's get them home. (THIRD CLIP)
What do you think?
Can we do it? Can we respond to the distress call of those lost in space?
I hope this lesson today has moved us. We must refuse to take "lost" for an answer and figure a way to bring people home. So, today the Lord is saying, "Okay people listen up. From this moment on we are improvising a new mission." Let me explain what I mean by "new mission." Our old mission statement said something like "We refuse to compromise the truth." We will never compromise the truth, but a greater mission is to get people home. If we can get them home, they will hear the truth.
We are about to enter a unique season in church. From now until the first of the year, we will be experiencing a lot of visitors. For some reason, this is the best time of the year to reach the lost. We have the Labor Day Community BBQ tomorrow. Nearly a thousand people will be here. We have Karen Wheaton on Friday. This sanctuary will be filled to capacity. The gathering of the Witnesses (Halloween) will be on October 29. King's Kastle is on October 30. Our Veteran's Day service will be on November 7. Also, our Thanksgiving Day service is on November 21. Furthermore, our Christmas service will be on December 19. New Year's service will be on January 2.
All of those will be times to reach people. We will all be with our families and friends. We will all be around people far from God. LET'S GET THEM HOME.
Church We Have A Problem
How valuable is Outreach to you?
How important is it that we reach the lost and get them home? Will you look at your heart and see? We express value in three ways. First, we express INTEREST. Has what we talked about today more than casually interested you? Are you really interested in getting people home? If you are then you are about to be used by God in a new and wonderful way because the second thing that will express value is INPUT. We have lots of thoughts and lots of ideas about what we value. When we value something, we give our INPUT. We desperately need your INPUT. We need teams. Moreover, we need ideas. The third thing that we express value with is INVESTMENT. We invest in what we value.
Matthew 6:21 For where your treasure is, there will your heart be also.
We invest financially in what we value. We have given this some thought and here is what I want to do today and every week. If you want to get some people home, then I want you to have an opportunity to exercise your faith. I invite you to come and light one candle to represent the people you want to reach. Then if you would like, contribute to an offering for Outreach. This is a no-pressure offering. I simply want you to plant a seed for lost people. Give $1.00 or $5.00 or $5,000, but plant something. If you don't have any money then go back to Pastor Lance's office and get a penny. Designate every week what you give for Outreach and it will go into the Outreach Account.
Here are a few things we can do. We can expand the radio ministry. Perhaps we can get on J103 out of Chattanooga. We can send out mass mailouts on a monthly basis. We can do more News Paper. There is no limit to what we can do. Whatever you give will go directly for the purpose of getting people home. What do you think? DO WE HAVE A PROBLEM? I don't think it's one that we can't fix. I THINK IT CAN BE OUR FINEST HOUR! LET'S GET OUR PEOPLE HOME!
Church We Have A Problem sermon video audio notes

Church We Have A Problem sermon video audio notes
Other Related Sermons:
The Lost Sheep Adventure notes
We Have Lost The Messiah Luke 2:39-52
1 Corinthians Study Audio Series
Also see:
Church We Have A Problem